We want to show you a simpler and faster way to learn to read Japanese.  Instead of studying each kanji character in isolation with the use of flashcards or writing each one by hand while hoping someday to arrive at the point where you can actually read Japanese articles, you can learn kanji and vocabulary more quickly with the help of mnemonics and then practice reading them in real sentences almost immediately.
Our Japanese Readers
This is the approach that we use in our three books that help students learn to read Japanese. Our first book was Learn to Read in Japanese, Volume 1 (discussed on this page). Then we released Learn to Read in Japanese, Volume 2 and Learn to Read in Japanese, Volume 3. Please scroll down this page in order to read more information about these two more recent books.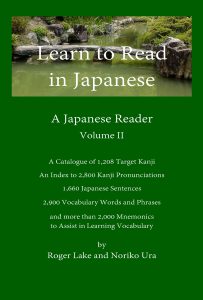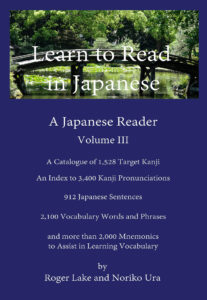 These books are also available in PDF format. You can read about the available formats in the section called "Advantages and Disadvantages of the Two Formats" on our How to Read Japanese page. You may purchase the PDF files at the PDF store.
You can see a review of Learn to Read Japanese, Volume 2 at this site (it's the second review on the page) and more reviews here.
Our Glossary
While writing Volume 3 of this series, we realized that the number of vocabulary terms in the three books had increased dramatically, and we decided to try to help students to organize and remember this vocabulary by assembling a companion Glossary.
The glossary lists more than 7,400 Japanese terms that are used in the three books, and it provides definitions and memory aids for nearly every term. The memory aids are of two types: explanations which describe how the terms are derived from other known Japanese words, or when such explanations aren't possible, mnemonics to help you to remember the terms' definitions and pronunciations. The glossary also identifies more than 8,000 synonyms (or at least "related terms"), which make it possible for you to compare similar words side by side.
This 330-page book is available from Amazon.com and can be ordered from bookstores as well. A Kindle version for use on handheld electronic devices and a PDF version for use on laptop or desktop computers are also available.
As a medium-sized book, the printed glossary has a warmer feeling than the Kindle and PDF versions, and it is somewhat faster and easier to use. In contrast, the Kindle and PDF versions are less expensive to buy, they permit very rapid searches (when used on appropriate devices – see the discussion in the next paragraph), and they may be more convenient to carry, at least for students who habitually carry smart phones anyway.
Please be aware that we do not recommend the PDF version of the glossary for those who plan to search the document on a handheld device, such as a phone or tablet, because our tests showed that searches are unacceptably slow on such devices. We do recommend the PDF version for those who plan to search the document on a computer laptop or desktop. The Kindle version works well on tablets or phones with relatively fast processors (such as an iPhone 6 or later).
This glossary cannot replace a good Japanese dictionary, nor is it intended to do so, but it includes thousands of explanations, mnemonics and synonyms that you won't find in a standard dictionary, and it focuses precisely on the terms that you will encounter in the three Learn to Read in Japanese books. We think that it will help to make your Japanese study easier and more interesting.
How do the second and third books differ from Volume 1 of the Learn to Read in Japanese series?
In all three books, we make it easier for you to learn to read Japanese by introducing new kanji at the beginning of each chapter and then asking you to take a quick pre-test on their pronunciations before you start to read. The practice reading material in each lesson includes only kanji characters that you know or are in the process of learning, and we provide immediate feedback about your reading accuracy in the form of same-page romaji equivalents and translations.
As we did in the first book, we provide at least three practice sentences for each new kanji in both Volume 2 and Volume 3.
You will notice a few changes to the format of Volumes 2 and 3, compared to Volume 1. First, we reduce the number of kanji that we introduce in each chapter from ten to eight. Second, we group the new kanji in the Kanji Catalogue by chapter, so that it's easy to study them in groups of eight before starting a new lesson.
Third, in addition to providing sentence reading practice, we include thousands of Japanese words and phrases for vocabulary reading practice. This vocabulary comes from three sources: the examples in the Kanji Catalogue, the practice sentences in each chapter, and the optional supplemental reading material available online.
Here is a sample of the Japanese Reader from the second book, demonstrating the innovations described above: Book 2 Sample, Chaps-1-2.
We introduce 600 new kanji in Volume 2 and 320 in Volume 3. In addition, the Kanji Catalogues in the two books include all of the kanji that were introduced in previous books, for a total of 1528. If you learn to recognize and pronounce these kanji, you will have traveled a long way toward your goal of learning to read Japanese.
Here is a sample of the Kanji Catalogue from the second book: Kanji Catalogue, Book 2, Sample.
Here is a sample of the Kanji Pronunciation Index from the second book: Index, Book 2, Sample
These books are designed to help you learn to read Japanese in five steps:
Step One. Kanji Catalogue. Before you start a chapter, turn to the Kanji Catalogue and take some time to review the eight new kanji that are listed in the New Kanji table at the beginning of the chapter. Your aim should be to acquire the ability to recognize each kanji and associate it with its pronunciations.
Step Two. Pronunciation Pre-Test. Next turn to the chapter that you are about to start reading and take the "Pronunciation Pre-Test." To do this, look at the New Kanji table and try to voice each of the pronunciations for all eight of the kanji in the table. Use the table at the bottom of the page to check your accuracy. Repeat this test several times until you feel ready to start reading.
Step Three. Vocabulary List with Mnemonics. Next start reading the Vocabulary List, being careful to cover the "answers" on the right side of the page with a piece of paper or your thumb. You will usually have a chance to practice reading each new kanji multiple times in different words. You will also see mnemonics for most of the words that appear in the Vocabulary Lists.
Step Four. Practice Sentences. Next read the Practice Sentences that are provided in each chapter. This is where you will really feel that you have started to learn to read Japanese. Again, be sure to cover the text on the right side of the page as you read, but don't hesitate to uncover it if you aren't sure about kanji pronunciations or when you don't know how to translate the Japanese text.
Step Five. Supplemental Reading. We hope that you will take this last step, but it is optional. We have identified some fascinating Japanese language articles online that use only the kanji that you have learned up to this point. These articles are available from "Satori Reader" (73 articles referenced in the second book) and from "News in Slow Japanese" (44 articles referenced in the second book and 98 articles in the third book); please scroll down in order to read more about these two resources. As you read these articles, you will see that you have made significant progress in your effort to learn to read Japanese.
How to Conduct Japanese Reading Practice more Efficiently
If you are interested in reading the PDF files of the books on a computer, on which you will be able to look up kanji in the Kanji Catalogue without using the Kanji Pronunciation Index, please see the Suggestions for Efficient Reading Practice page.
Supplemental Reading Material to help you Learn to Read Japanese
The supplemental reading material recommended for readers of Learn to Read in Japanese, Volumes 2 and 3, can be found in two online resources: Satori Reader and Read in Slow Japanese. This reading material meets the following criteria: it includes romaji or kana equivalents of the kanji, it includes English translations, and it does not contain furigana, since furigana can interfere with the acquisition of reading fluency.
In order to ensure that these resources contain only kanji that you know or are learning, we introduce kanji in these books in the same order that they are introduced in the resources. As a result, when you have completed Chapter 2 of Volume 2, you will be able to read the first article in Satori Reader. When you have completed Chapter 3 of Volume 2, you will be able to read the second article, and so on. Likewise, when you have finished Chapter 48 of Volume 2, you will be able to read the first article in Read in Slow Japanese. When you have finished Chapter 50 of Volume 2, you will be able to read the second article, and so forth. Understandably, the authors of these resources charge nominal fees for access to their original work. If you are unable to afford those fees, you may consider this supplemental reading practice material optional.
To help keep your expenses down as you learn to read Japanese, Satori Reader is offering a discount code, good for 20% off the first three months, or 15% off the first year of a new subscription. To use this, first create an account on Satori Reader. Then, from the "Subscribe Now" screen (either during the signup process or later at any time), simply choose a Monthly or Annual subscription, enter the code where prompted and hit "Apply." The page will immediately update to show the discounted price. You can then complete the purchase with the discount. The code is LTRJ-ZLWWTWAC.
News in Slow Japanese also offers some very reasonable rates, including  a "non-recurring" option that never expires.
We hope that you will be able to subscribe to these two resources, at least briefly. You will almost certainly experience a thrill when you find that you are able to read the compelling Japanese text that they provide. You will probably want to save that text and re-read it several times. In addition, during the time that you subscribe, you will have a chance to listen to the audio versions of the articles, and you will be able to read the excellent explanatory material that accompanies them.
Below you will find samples of the first lessons from both online resources, reproduced with permission from the authors. I have formatted them in a way that should make it easy for you to read the Japanese text without inadvertently seeing the romaji, while still allowing you to locate explanatory material easily as you read.  In this formatting scheme, the Japanese text appears in font size 14.  After each line of Japanese text, there is a blank line. Then the romaji text appears in font size 8, supplemented by occasional explanations in parentheses which I have added.
Satori Reader does not provide romaji text. You may not need it, but I have used the Google Translate service to convert the Japanese text from Satori Reader to romaji text, as you can see in the sample.
News in Slow Japanese, sample 070918
Notice for Students who are Planning to Take the JLPT N3 Test
The JLPT testing organization does not release the exact kanji that are required for each level of the test, and various people are supplying their own estimates. According to one estimate that I saw, the JLPT N5 test requires knowledge of 103 kanji, and the N4 test requires knowledge of 181 kanj. All of these kanji are taught in Learn to Read in Japanese, Volume 1.
According to the same source, the JLPT N3 test requires knowledge of 580 additional kanji that are not taught in Volume 1.  Volumes 1 and 2 of Learn to Read in Japanese teach 506 of those kanji.  All of them are taught in Volume 3 of the series.